Cocaine is a stimulant drug that creates a euphoric "high" in the user when they snort it, smoke it, or dissolve it in liquid and inject it – or turn the substance into "crack" and smoke the drug in that form. This feeling is intensely addictive, and many people become psychologically dependent upon the drug after a few uses, craving its use daily or multiple times per day.
Additionally, physical dependence can develop when the drug is used chronically for the long-term. When both a psychological dependent and a physical dependence exist at the same time, cocaine addiction is a diagnosable issue and one that will require treatment from a medical and psychotherapeutic program. Without immediate help, cocaine abuse and addiction can be deadly.
Why is Cocaine Rehab Necessary?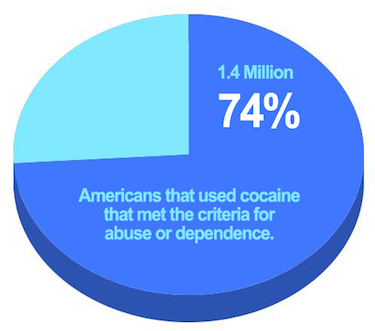 According to the National Institute on Drug Abuse (NIDA):
About 1.9 million Americans reported using cocaine in the past month in 2008.
About 1.4 million Americans met the criteria for cocaine abuse or dependence in 2008.
Almost 25 percent of all ER visits caused by drug abuse in in 2008 involved cocaine use.
Cocaine was involved in more than 5,100 deaths in 2008.
Use of the drug in any amount or for any duration is life-threatening. Without cocaine rehab, those who are addicted to the substance put their lives at risk daily.

Which Type of Treatment Is Right?
There are so many different variations on treatment when it comes to therapeutic services and philosophies of care, it can be difficult to determine which one is the best one for your addicted loved one's needs.
Some of the choices in rehabilitation include:
Inpatient or outpatient
Short-term or long-term care
High-end treatment or bare-bones programs
Religious, spiritual or agnostic
Traditional or alternative
Dual diagnosis or substance abuse only
The combination of choices that defines the rehab program you choose for your loved one should be based entirely on their experience in addiction, their needs in treatment, and their overall goals for recovery.
Consider the following:
If your loved one is diagnosed with co-occurring disorders of substance abuse and a mental health disorder, a dual diagnosis program is recommended.
If your loved one has the ability to disconnect from home and work for a period of time, then an inpatient program is recommended. More time spent in treatment often correlates to improved outcomes in recovery, so the longer your loved one can remain in cocaine rehab, the better.
Holistic programs and comprehensive care are always recommended over bare-bones treatment or programs that focus on just one aspect of recovery. The more in-depth and varied the options in therapy and treatment, the more likely it is that your loved one will experience a uniquely specific and directed program that will help them to work through their specific challenges in sobriety.
Alternative treatment options can provide patients with surprising breakthroughs in recovery, but they are most effective when combined with traditional therapy options as well.
---
5 Questions to Ask Before Enrolling in Cocaine Rehab
What are the certifications/qualifications of the rehab program as a whole and of each staff member?
Do you start each patient's recovery with a diagnostic and evaluation period and then create a unique treatment plan for them based on the results?
Do you allow for updating and modification to treatment plans as patients grow and achieve treatment goals?
What are the treatment and therapeutic options available to my loved one and how will they serve them in overcoming specific obstacles to recovery? Be clear about which obstacles seem most problematic for your loved one.
Are family members encouraged to take part in the recovery program and supported to increase their ability to support the addicted person?
---
What to Expect During Cocaine Addiction Treatment
When you entrust the care of your loved one to an addiction treatment program, it's natural to wonder what it is that they will be experiencing on a day-to-day basis. Though every program's scheduling will vary, families can expect the following:
Building toward recovery. There are certain steps that your loved one must take in order to grow in recovery. This starts with detox to stabilize any physical or medical issues and is followed by therapeutic intervention of varying intensity and direction to help them become stronger emotionally and spiritually.
Length of stay. This will be determined based on a number of factors, including the goals your loved one would like to accomplish before leaving the treatment program, responsibilities and timelines at home or work, and readiness to live independently in recovery.
Medications. In some cases, medications may be appropriate to help patients overcome cravings in cocaine addiction treatment, but there are currently no medications approved specifically for the treatment of cocaine dependence.
Therapies. A combination of traditional therapies (e.g., one-on-one therapy, group sessions, etc.), alternative therapies (e.g., art therapy, animal-assisted therapy, sports and adventure therapy, etc.), and holistic treatments (e.g., yoga, meditation, acupuncture, etc.) are recommended.
Cost of treatment. Depending upon the type of rehabilitation program you choose, the length of stay, and the medical care required by your loved one as well as the amount of assistance you receive from your health insurance plan in covering the bill, the cost of care will vary. Financing plans are almost always an option.
Overcoming Cocaine Addiction Can Start Now
You can help your addicted loved one take the first step toward recovery by assisting them in finding the most comprehensive, high-end care possible. Here at Axis, we offer each patient an in-depth, all-inclusive experience in treatment that is defined by evidence-based therapeutic and medical interventions.
When you contact us at the phone number above, we can discuss the unique nature of your loved one's needs in treatment and help you determine how best we can help them to overcome cocaine addiction. Learn more about our rehabilitation program here at Axis today. Call now.
---