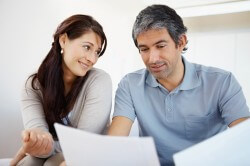 Recovering from cocaine addiction may be one of the toughest challenges you've ever faced. This stimulant affects your brain in such a way that you can experience overwhelming cravings for the drug if you try to quit using. On top of that, the depression, anxiety and agitation of cocaine withdrawal can make rehab seem unbearable. To be successful at rehabilitation, you need a strong source of motivation and a lot of support from others. You also need a program that gives you enough time to achieve a full recovery. Statistics indicate that to get the maximum benefits from cocaine addiction treatment, you should spend at least three months in rehab.
Seek Motivation and Support
According to the American Psychological Association (APA), motivation to change is one of the most important factors in determining your success at drug rehab. The higher your level of personal motivation, the more likely you are to succeed. Effective drug rehabilitation programs provide support and encouragement to enhance your motivation. Contingency management, a process of providing incentives for staying clean, has been highly effective at sustaining motivation. Motivational interviewing, a therapeutic technique that encourages the client to explore his or her sources of motivation, is another powerful way to promote change.
As you go through rehab, spend time building a strong support network. You'll find that there are many sources of support available, including:
Certified addiction counselors and therapists
Other recovering cocaine addicts in group therapy meetings
12-step programs like Cocaine Anonymous
Family members, friends and spiritual advisors
Having a strong support network can increase your chances of achieving and maintaining your recovery.
Choose a Long-Term Treatment Plan
In the past, the recommended length of an addiction treatment program was 30 days. Many programs still rely on this standard; however, research shows that a program of at least 90 days is more effective at preventing cocaine relapse. In a study of heavy cocaine users throughout the United States, the Archives of General Psychiatry found that clients who stayed at a residential treatment facility for three months or more had the best outcomes. An extended treatment period gives you the opportunity to pursue your recovery goals in a secure, supportive environment.
Take Advantage of a Range of Resources
Out of all the drugs on the streets, cocaine is one of the most addictive. A comprehensive treatment program for cocaine addiction gives you a variety of tools to help you fight this powerful drug. In addition to individual counseling, group therapy and preventive education, you should have a chance to utilize pharmaceutical therapy and holistic treatments to help you stay abstinent. Although no medications have specifically been approved for treating cocaine addiction, there are a number of prescription drugs that are utilized to help recovering addicts curb their cravings and cope with withdrawal symptoms.
Holistic therapies like acupuncture, massage, yoga and equine-assisted therapy provide valuable complements to your treatment plan. The focus of these therapies is to promote inner balance, reduce stress, minimize cravings and increase your self-confidence as you go through rehab. To be successful at cocaine rehab, try a number of different approaches to support your recovery.
Aftercare services are just as important as cocaine detox and rehabilitation. Once you've completed your treatment program, you'll need ongoing support from professionals, friends and family members in order to stay abstinent. At Axis, we provide comprehensive care from the early stages through graduation and beyond. Call us to learn how we can help you recover from the devastating effects of cocaine addiction.