When it comes to choosing a drug rehabilitation facility for a loved one, you have a lot of different options. There are many different kinds and types of treatment available, and it's very important to consider your loved one's specific needs as you choose a treatment center and ensure that it will be uniquely suited to him or her.
How do you accomplish that formidable task? Take your time, consider your options, and call and speak to one of our counselors here at Axis to learn more about our high-end treatment center and how it can help your loved one begin his or her own journey to recovery.
Residential
In order to effectively address drug addiction as well as the co-occurring issues that may be underlying the problem, most patients will require residential or inpatient care. At a residential treatment program, the addicted patient will live at the treatment facility with access to 24-hour care and support that can be critical in helping them to avoid relapse in the early stages of recovery.
Benefits provided by residential treatment programs include:
Round-the-clock support from peers and counselors
Daily, intensive therapeutic schedule
Oversight of progress and monitoring of symptoms
More privileges given as treatment progresses
Lack of stressors caused by the "outside world"
Outpatient
Comparatively, an outpatient treatment program may offer similar therapeutic interventions as provided by the inpatient program but patients must be responsible for attending all sessions, being on time, and staying drug-free on their own – which can be difficult for someone who is new to the sober lifestyle.
At Axis, we provide psychiatric care for co-occurring mental health symptoms as well as assistance with a wide range of everyday functioning needs (e.g., job skills, parenting classes, and a range of holistic and alternative treatment options) to augment traditional drug addiction treatment services.
Short-Term or Long-Term Care
Most patients will want to exit treatment as soon as possible, however, that is not always the best course of action. Treatment programs can vary greatly in terms of length, and the length of stay should be determined on a case-by-case basis as per the readiness of the patient to manage sobriety in addition to the responsibilities of life at home and/or at work. We offer 30-day, 60-day, and 90-day program options and can help you determine which will be most appropriate for your addicted loved one based on his or her needs in treatment.
No matter how long your family member remains living in residence at our treatment program, it is always recommended that he or she follow up with intensive aftercare treatment upon returning home. Studies have shown that individuals who take advantage of continuing therapeutic services like 12-step groups, personal therapy, acupuncture, yoga, and other options have a much greater chance of staying sober longer with no or minimal relapse than do those who do not utilize such programs after traditional treatment is complete.
You can also augment your loved one's ability to remain clean and sober at home by providing a positive, stress-free environment and learning how best to avoid enabling behaviors. Like the specifics of inpatient drug rehab, the treatment services chosen during aftercare should be based on the needs of the individual and the areas where they need the most support in recovery.
Remember to be flexible. While it's okay to initially commit a loved one to a pre-set treatment length, you always have the option to make changes later and extend his or her stay as needed depending upon individual progress. Remember, recovery is a process – a process that must be allowed to unfold at its own rate.
Consider 90 Days
One study tracked the weekly drug use among individuals who attended residential treatment centers. After one year post discharge they discovered that there is a correlation between retention rates and the length of stay at a facility. Individuals coming form programs of 90 days or more showed a lower relapse rate than those coming from programs of less than 90 days.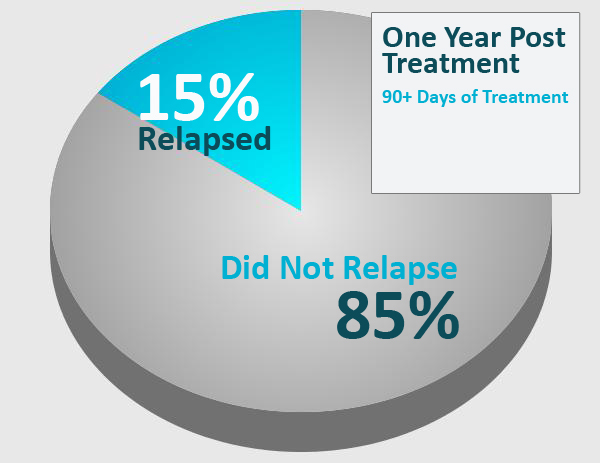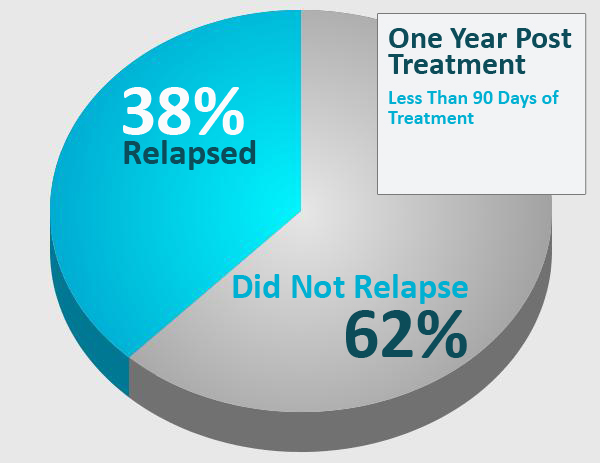 Source: Treatment Outcomes Study
What to Look for When Choosing Your Rehab
Once you determined whether or not your loved one requires an inpatient drug treatment program and decided how long he or she should stay, what else should you look for in an effective drug rehab program? There are a number of characteristics that signify a positive, safe, and efficient environment for your loved one that will promote growth and healing physically, mentally and emotionally.
Here's a checklist of what you should look for:
Attentive staff (e.g., high ratio of staff members to patients)
Qualified staff (e.g., educated and experienced)
Low number of patients in residence
Level of care and resources that are in direct proportion to the severity of your loved one's addiction
Location that provides the safety and separation the patient needs to focus on recovery
Provisions to include family and friends in the patient's recovery process
Clean, well-managed grounds and facility
Payment options that work for you and your budget
Accreditation by the state
Proven, research-driven data on the success of its treatment programs
Initial diagnostic process to identify all issues that may influence the patient's ability to make progress in recovery
Evidence-based treatment and therapeutic options
Highly personalized treatment programs tailored to meet the needs of each patient
Aftercare services and referrals for the prevention of relapse
Finding a drug rehab facility that has all of these features may seem difficult, but here at Axis, we provide everything on the list above and more. Our goal is to offer your loved one everything he or she needs to break free from drug and alcohol dependence and to go home with a plan that will help to continue to grow in recovery and remain true to his or her principles of sobriety. Starting with an evaluation and diagnostic process at intake, we create a treatment plan designed just for your loved one, complete with an intensive therapeutic schedule that comes with cutting-edge treatment options as well as traditional care and support.
As your loved one progresses in treatment, his or her therapeutic schedule will be assessed and adjusted as needed to recognize the treatment goals that have been met and the new goals that have taken their place. Contact us today at the phone number listed above to learn more about your loved one's options in recovery here at Axis.
---
Have Questions?
---